News: KTDA to pay woman Sh1.5m for photo
Image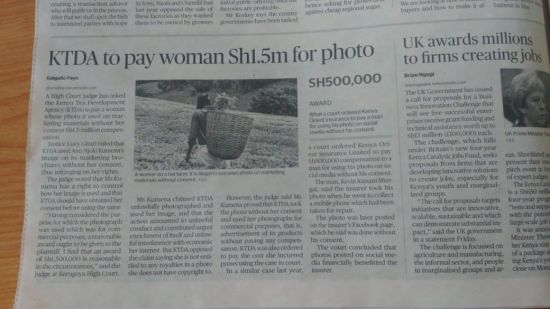 License
All rights reserved.
Created date
April 5, 2019
Critical Commentary
This newspaper clipping was shared with me in an email by the Managing Director of Research Organization 2. The article originally appeared in the Standard Newspaper on March 18, 2019 and a digital version of the article can be found here. Although he didn't include explanation about why he shared it (the email message simply read: "fyi"), I assume it was shared because of the issue of consent (did KTDA legally acquire the photo of the woman and get her permission for its use?) as well as the penalty and fines by the judge who deemed that indeed KTDA had not acquired the photo with her consent. This is a concern and risk for research companies and others who take many such images of research subjects and may use and publish them in reports that may become public. What is necessary in an informed consent document for researchers to ensure that they will be protected from being sued over copyright issues if they publish photographic data?
Source
Managing Director of Organization 2 emailed me a clipping of the newspaper article published in the Standard Newspaper.
Group Audience