"Wear a Mask": COVID-19 prevention sign outside butchery in rural Kenya
Image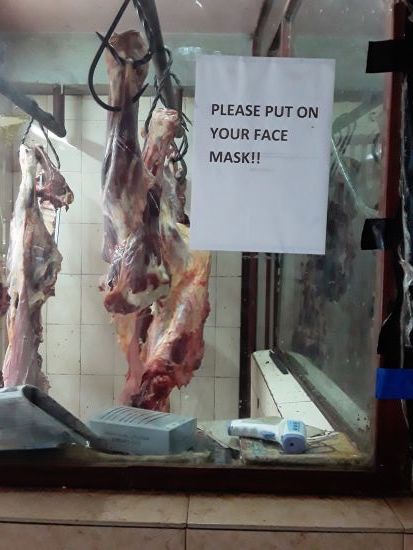 Annotations
Contributed date
August 10, 2020 - 11:53am
Critical Commentary
I took a photo of this sign on August 8, 2020. It was posted on a glass window inside a Kenyan rural town butchery. The butchery uses English to remind customers of accepted COVID-19 prevention protocols with the sign reminding the reader to wear a face mask. This message reflects an adoption and acceptance of disease prevention communication even in a rural context. 
Source
Butchery in Nyeri town (rural Kenya)
Group Audience
Cite as
MwalimuW, 8 August 2020, ""Wear a Mask": COVID-19 prevention sign outside butchery in rural Kenya", contributed by Wambui Wamunyu , Research Data Share, Platform for Experimental Collaborative Ethnography, last modified 14 September 2020, accessed 25 January 2022.