View essay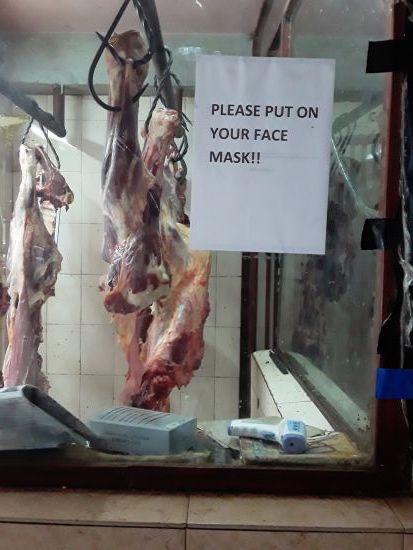 This sign was posted on a glass window of a butchery in a Kenyan rural town (Nyeri). The butchery uses English to remind customers of accepted COVID-19 prevention protocols with the sign reminding the reader to wear a face mask. This message reflects an adoption and acceptance of disease prevention communication even in a rural context.
These posters were posted on the entry door of a butchery in rural Kenya (Nyeri). The top sign refers to anyone with COVID-19 as a 'suspect' who is unwelcome in the butchery. The bottom sign provides directions in graphical form for how to wash one's hands, just above a container with fresh water. It is set outside for customers to wash their hands before they enter the butchery. The hostility and caution reflected in the two signs reflect the multiple, sometimes contrasting views held towards the coronavirus pandemic. The signs indicate an acceptance and recognition of the pandemic's spread and reach, as well as a stigmatisation of those infected with the virus.
These artifacts have circulated either on Kenyan mainstream or social media and we believe are relevant to understanding how the public is interpreting & experiencing COVID19 and its effects in Kenya.